Twitter effecting Google Search Results?
As I've recently started to blog about SEO on my own websites I wanted to look at some particularly interesting points surrounding starting a blog in such a competitive area.
I don't really have the time or resources to do much research let alone the type which takes into account everything and leaves no holes. However, I did come across an interesting use of Twitter – which is used more and more to share content.
Twitter Influencing Indexation of Content
I recently started another blog, about a specific niche I'm very interested in – link building. I never planned for a big launch but I saw a little opportunity arise, the chance to participate in a link building interview for Ontolo's @GarrettFrench knowing it would be tweeted by him. I had answered a few questions and published the post, the second post of the blog. The first was published some time earlier that day, with the blog being launched at the same time as the first introductory post.
That was all I did in terms of a launch, it was a soft one. At the end of the day I checked what was in the index: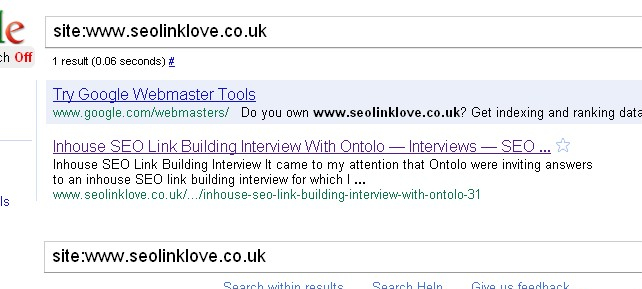 Tweeted by @GarrettFrench which Topsy at least thinks is highly influential – a follower count of 90+ with over 1500+ followers.
[notice] Google had only bothered to display one page, not even the homepage, which coincidently was the post tweeted by a few people. It was the only post indexed. No doubt others had been crawled but this was the only one indexed and showing. Got to be Twitter? [/notice]
Twitter Swaying Google Search Rankings
A brand new domain with a freshly installed blog was created for a client (have to keep this anonymous). I started blogging within the industry on hot-topics and useful information. I wasn't interested in link building for the particular blog at this point but I did identify that Twitter would be of great use, as many of the competitor were actively getting on to Twitter.
I started to write good content, helpful to the public, and interesting developments within the industry to make competitors notice. After tweeting this content, I started to get retweets from some of the competitors. Its ended up getting established amongst them with over a hundred followers in the first few months and some good communication between each other – including publishing of press releases, guest posts, and natural link building from those who have noticed.
The domain, coming up to about 6 months old, is ranking for some really good long tail terms – above certain competitors with good authoritative websites and blogs. However, its one particular page that stood out – I targeted it with a massive 1500 word guide yet it isn't ranking very well. Half expected as it was a competitive long tail term.
A few weeks later, I wrote another post in conjunction with somebody else, which also said positive things about a product from a worldwide company in the same industry. That page wasn't written for SEO but funnily enough was targeting the same long-tail term as the guide.
[notice] The company tweeted it, the person helping me tweeted it, it got around 20 mentions on Twitter that day. Its ranking in the top 5 for the phrase, pages above the other guide! There aren't any backlinks in play here, the only influence I can think of is Twitter! [/notice]
Its interesting that this is happening. I'm sceptical that it doesnt see much effect from the odd tweet or lots of spammy accounts. Some of the tweets for the two posts I've talked about were from accounts you could say are "highly influential" at least topsy says so. After the data buy out, it may well be that these type of signals are being used – hopefully somebody has done some major research on this?
I think it would be a good step and can help show naturalness but it may also be easily gamed.
Related posts: